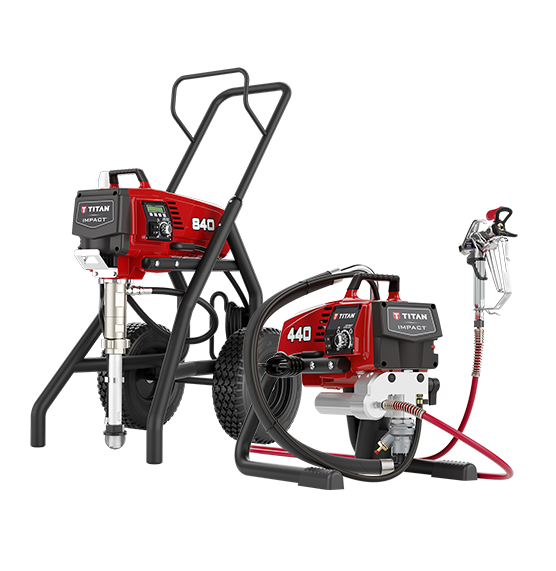 Spray Smarter for Longer
The Impact® series electric airless paint sprayers conquer single rooms and entire manufacturing facilities with portability and toughness that make it an invaluable asset to every pro painter's arsenal. Here's what makes the Impact electric sprayers so essential:
Unmatched portability and toughness
A cylinder that never wears or needs replacing
Self-adjusting and self-compensating packings for extended life and best performance every time
DigiTrac™ display for advanced diagnostics, settable working pressure readings, resettable gallon and run-time counter, and more (available on the 640 & 840)

AutoOiler™ to deliver oil from the reservoir to the packings at the push of a button
What our customers have to say
After experiencing issues with competitive products, I switched to Titan paint sprayers 10 years ago and have never looked back.
Mario Sagastume
Saga Painting and Design
The Titan name really just speaks for itself. I highly recommend the Impact 440.
Jake Baird
All Around Property Services
The Impact 840 is our go-to for commercial projects - it's the definition of reliability.
Paul Rizzo
Rizzo Brothers Painting Contractors Inc.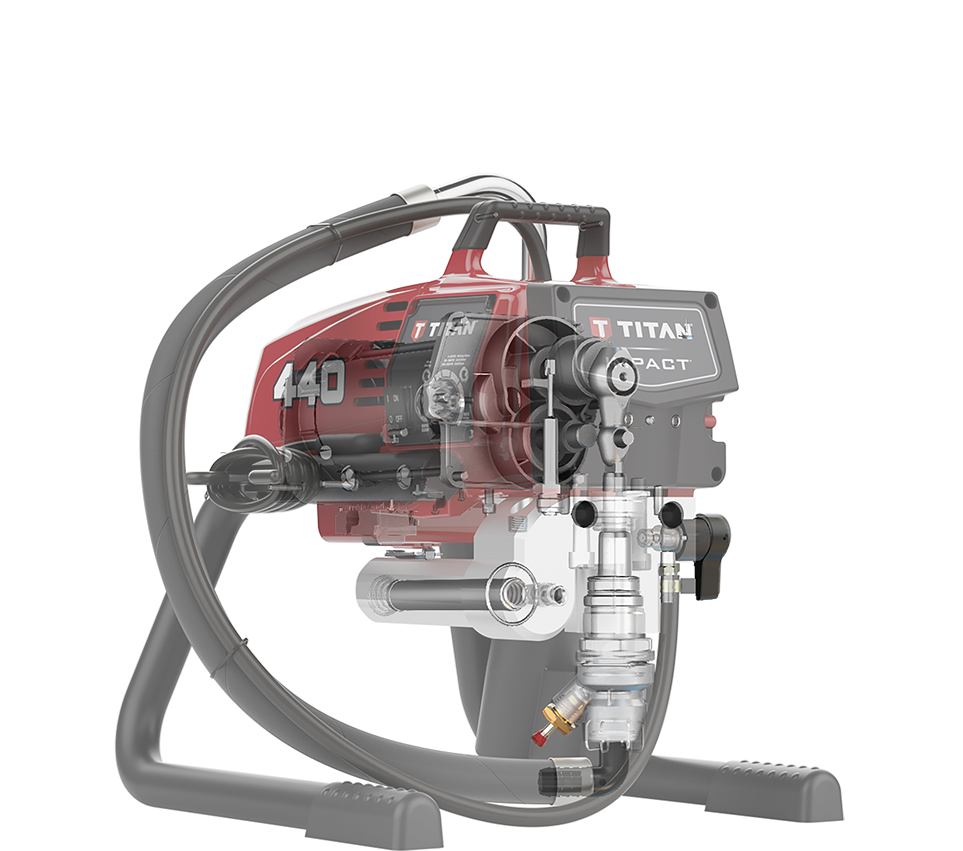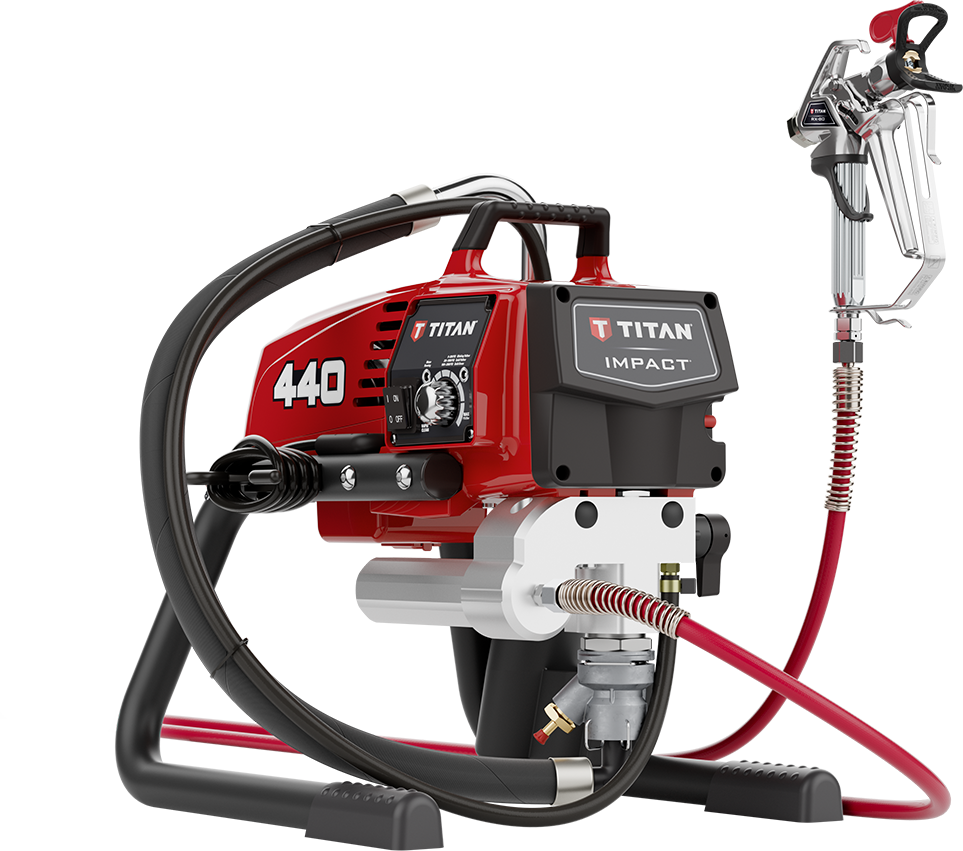 Ultimate Performance
Quad+ Packings™ and Permalife™ Cylinder
Self-adjusting and self-compensating packings extend life and deliver the best performance every time
PermaLife Cylinder never wears or needs replacing
Field serviceable fluid section can be replaced in minutes from any and every job site
T-slot piston and release mechanism makes removal fast and easy
Technology that makes an impact
Featuring DigiTrac Technology
Advanced diagnostics display to help you spray smarter
Always spray the right way with settable working pressure readings
Resettable gallon and run-time counters
Available on the 640 and 840
Always ready to finish the job
Featuring Sureflo™ Pusher valve
Prime the first time, every time
Unsticks lower ball valve at the push of a button
No tools required
Available on 440 and 640
Built-in Innovation
Featuring AutoOiler Technology (Impact 440 and higher)
Deliver oil from the reservoir to the packings with the push of a button
Keep the piston protected at all times for extended life
Leave the constant need for a bottle of piston oil out of the equation
Jobsite Impact
Sureflo™ Pusher Valve (available on 440 and 640) - Primes the first time, every time. Unstick the lower ball valve with a push of a button.
AutoOiler - Deliver oil from the reservoir to the packings with the push of a button.
T-slot piston and release mechanism makes removal fast and easy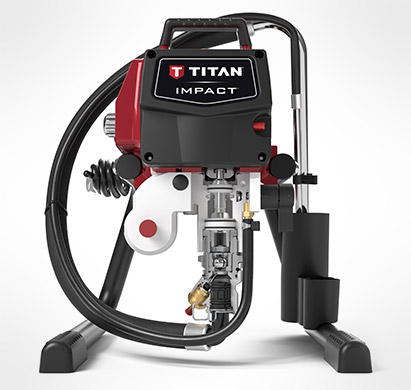 Fluid section ahead
Quad+ Packings that self-adjust and compensate to deliver the best performance every time you spray
Industry-best ROI with the PermaLife Cylinder that never wears or needs replacing
Field serviceable fluid section that changes out in 10 minutes or less

440 and 840 equipped with "Fast Removal" - Quick and easy change by removing two bolts or just loosen and twist
Handle pressure with ease
Refined electronic pressure control makes your fan pattern look good
Extreme variability delivers slight or large pressure changes with ease
Digitrac Integrated Digital Display
Cut clean-up time with the Rapid Clean setting that flushes the pump in half the time
Specifications
| | Impact 440 | Impact 410 | Impact 640 | Impact 740 | Impact 840 | Impact 1040 | Impact 1040T | Performance 1650E |
| --- | --- | --- | --- | --- | --- | --- | --- | --- |
| Max Delivery | 0.54 GPM | 2.05 LPM | 0.47 GPM | 1.78 LPM | 0.70 GPM | 2.65 LPM | 0.80 GPM | 3.03 LPM | 1.00 GPM | 3.79 LPM | 1.15 GPM | 4.36 LPM | 1.15 GPM | 5.68 LPM | 1.30 GPM | 5.0 LPM |
| Max Tip Size - 1 Gun - Electric | 0.023" | 0.021" | 0.027" | 0.029" | 0.032" | 0.033" | 0.033" | 0.039" |
| Max Tip Size - 2 Gun - Electric | | | | 0.017" | 0.021" | 0.022" | 0.022" | |
| Max Operating Pressure | 3300 psi | 22.8 MPa | 3100 psi | 21.3 MPa | 3300 psi | 22.8 MPa | 3300 psi | 22.8 MPa | 3300 psi | 22.8 MPa | 3300 psi | 22.8 MPa | 3300 psi | 22.8 MPa | 3200 PSI (221 bar; 22.1 MPa) |
| Motor | 7/8 HP DCX | 3/4 HP DCX | 1.55 HP DuraLife Brushless HE | 2.0 HP DuraLife Brushless HE | 2.3 HP DuraLife Brushless HE | 2.5 HP DuraLife Brushless HE | 2.5 HP Brushless | 3.00 HP Duralife Brushless HE |
| Part Number | | | | | | | | 558773 |
| Part Number - Skid | 805-000 | 532052 | 805-002 | | | | | |
| Part Number - High Rider | 805-016 | 532053 | 805-004 | 805-007 | 805-009 | 552600 | 2405360 | 0558773 |
| Part Number - Low Rider | 805-019 | | 805-005 | | 805-010 | | | |
| Product Name | Impact 440 |
| --- | --- |
| Max Delivery | 0.54 GPM | 2.05 LPM |
| Max Tip Size - 1 Gun - Electric | 0.023" |
| Max Operating Pressure | 3300 psi | 22.8 MPa |
| Motor | 7/8 HP DCX |
| Part Number - Skid | 805-000 |
| Part Number - High Rider | 805-016 |
| Part Number - Low Rider | 805-019 |
| Product Name | Impact 410 |
| --- | --- |
| Max Delivery | 0.47 GPM | 1.78 LPM |
| Max Tip Size - 1 Gun - Electric | 0.021" |
| Max Operating Pressure | 3100 psi | 21.3 MPa |
| Motor | 3/4 HP DCX |
| Part Number - Skid | 532052 |
| Part Number - High Rider | 532053 |
| Product Name | Impact 640 |
| --- | --- |
| Max Delivery | 0.70 GPM | 2.65 LPM |
| Max Tip Size - 1 Gun - Electric | 0.027" |
| Max Operating Pressure | 3300 psi | 22.8 MPa |
| Motor | 1.55 HP DuraLife Brushless HE |
| Part Number - Skid | 805-002 |
| Part Number - High Rider | 805-004 |
| Part Number - Low Rider | 805-005 |
| Product Name | Impact 740 |
| --- | --- |
| Max Delivery | 0.80 GPM | 3.03 LPM |
| Max Tip Size - 1 Gun - Electric | 0.029" |
| Max Tip Size - 2 Gun - Electric | 0.017" |
| Max Operating Pressure | 3300 psi | 22.8 MPa |
| Motor | 2.0 HP DuraLife Brushless HE |
| Part Number - High Rider | 805-007 |
| Product Name | Impact 840 |
| --- | --- |
| Max Delivery | 1.00 GPM | 3.79 LPM |
| Max Tip Size - 1 Gun - Electric | 0.032" |
| Max Tip Size - 2 Gun - Electric | 0.021" |
| Max Operating Pressure | 3300 psi | 22.8 MPa |
| Motor | 2.3 HP DuraLife Brushless HE |
| Part Number - High Rider | 805-009 |
| Part Number - Low Rider | 805-010 |
| Product Name | Impact 1040 |
| --- | --- |
| Max Delivery | 1.15 GPM | 4.36 LPM |
| Max Tip Size - 1 Gun - Electric | 0.033" |
| Max Tip Size - 2 Gun - Electric | 0.022" |
| Max Operating Pressure | 3300 psi | 22.8 MPa |
| Motor | 2.5 HP DuraLife Brushless HE |
| Part Number - High Rider | 552600 |
| Product Name | Impact 1040T |
| --- | --- |
| Max Delivery | 1.15 GPM | 5.68 LPM |
| Max Tip Size - 1 Gun - Electric | 0.033" |
| Max Tip Size - 2 Gun - Electric | 0.022" |
| Max Operating Pressure | 3300 psi | 22.8 MPa |
| Motor | 2.5 HP Brushless |
| Part Number - High Rider | 2405360 |
| Product Name | Performance 1650E |
| --- | --- |
| Max Delivery | 1.30 GPM | 5.0 LPM |
| Max Tip Size - 1 Gun - Electric | 0.039" |
| Max Operating Pressure | 3200 PSI (221 bar; 22.1 MPa) |
| Motor | 3.00 HP Duralife Brushless HE |
| Part Number | 558773 |
| Part Number - High Rider | 0558773 |